Kpop fans are using a rapper voice maker and generator to create their own Korean music like their favorite KRnB artists.
Ever since the song Gangnam Style by Psy first hit our ears over 10 years ago, Korean music has seen a continued upward trend in global popularity.
This trend has been further boosted with the likes of popular Kpop groups such as BTS or even Korean solo artists such as Jay B and Dean.
Now, global fans of Korean music can create and share their own Korean hip hop style music with Typecast via speech synthesis.
How to use typecast.ai
To start creating your own KRnB or Khiphop music just follow these simple steps below:
Go to typecast.ai and create an account if you haven't already, or just sign in.
Look to the left at the My Projects tab and click on + Create New, then Project.
Click on the character icon above the text or on the right side of the editor, then search for the Korean female artist "DVZY" or the Korean male artist "DU5T".
Now you can write your song lyrics via type to speech! Or jusy paste them in if you've written them elsewhere previously.
Click play to listen to the lyrics, or click download to save the audio file to your desktop/mobile.
Free users can enjoy 10 minutes worth of BGM-free downloaded audio every month!
If you want a more in-depth guide you can read our step-by-step article on how to use AI text to speech in 5 minutes.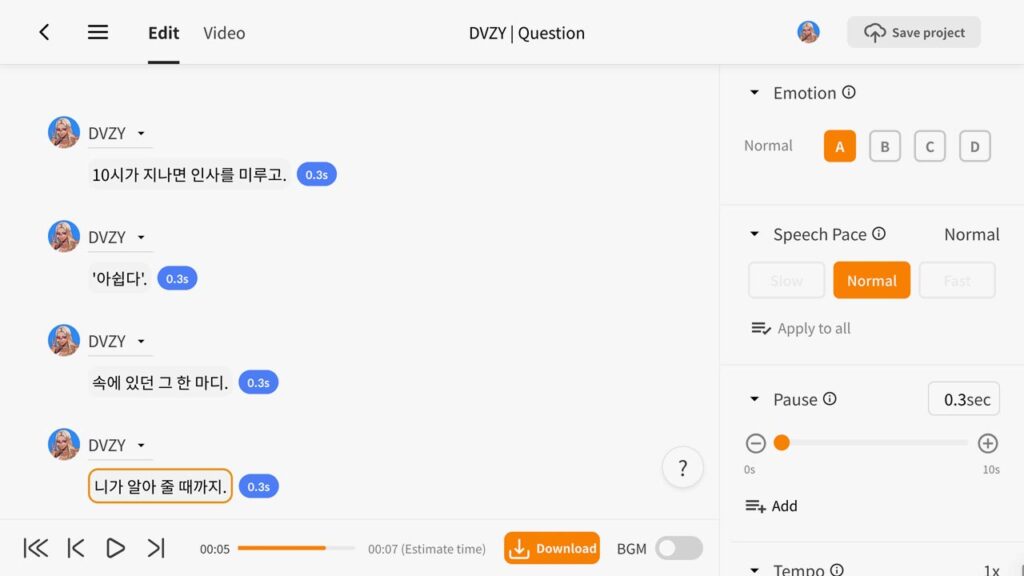 What is typecast.ai?
More than just a computer voice reader. Typecast is an AI text to speech platform that allows users to cast virtual humans for a number of different AI generated voice-over and video roles.
These roles include, but are not limited to, documentaries, trailers, reviews, livestreams, newscasting, and now music etc.
Users can enjoy the creative freedom to cast virtual humans via AI voice text to speech to voice their content in real-time from the comfort of home, without dealing with the usual lengthy process and high cost of voice actors for hire.
Real actors are used and compensated in royalties to create Typecast's current roster of 150+ virtual humans so everyone can benefit.
Learn Korean with BTS
Typecast also has a number of English speaking characters to cast, including rappers like Viqqie.
But, if you want to generate your own Korean songs then using the Korean language is best, so if you're new to the Korean language then there's a solution.
Typecast recently partnered with HYBE EDU (an education arm of Big Hit Entertainment) to create a Korean learning kit with BTS that allows anyone to learn the Korean fundamentals such as hangul (한글) anywhere!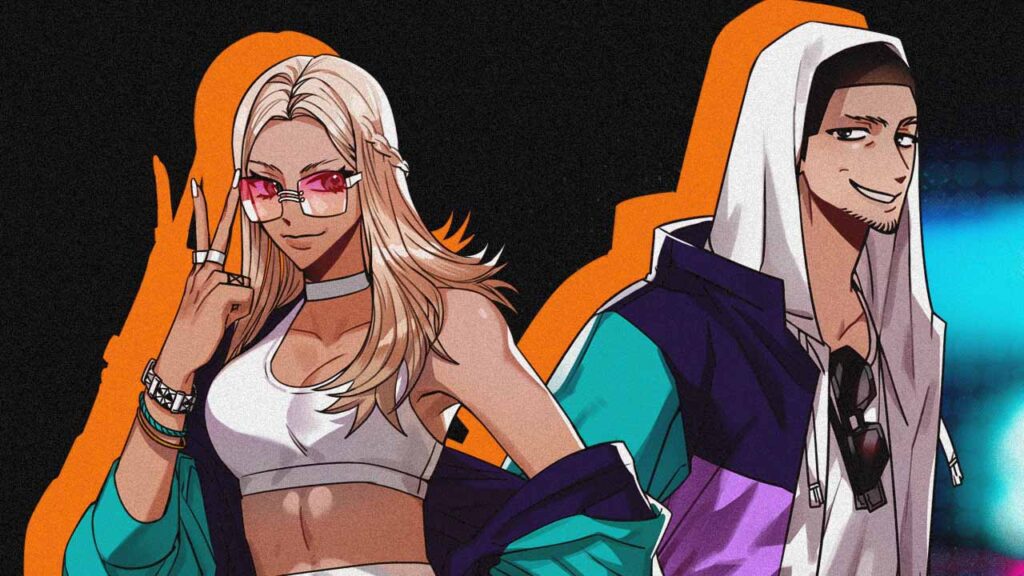 Korean AI rappers DVZY & DU5T
DVZY (pronounced Daisy) and DU5T (pronouned Dust) are the world's first Korean AI virtual rappers, inspired by other artists in the Kpop and hip hop scene such as Jessi and E Sens.
The global rap scene has been going through rapid and extreme phases that include trap metal and lo-fi cloud rap. Yet, there was always a steady demand for, and supply of, old school boombap.
It might have been easier for us to make more gimmicky rappers who could outspeed real rappers, or speak all vowels in staccatos.
But we wanted our rappers to get the fundamentals of rapping correctly. This is why our AI rappers can shine on the primal four-to-the-floor: we focused on the most orthodox style and collaborated with artists (who we cannot name) with strong basics.
Some helpful tips
When making a rap song with AI rappers or pre-recorded audio clips, make sure you know how to change each clip's speed on your audio editing program.
Adjusting each audio clip's speed will make it sound more natural to the backing track. One cheat I learned is getting only the first and last sound-waves of a single clip land on the beats accurately.
This has an effect of making everything in the middle sound more natural, so you don't have to obsess over placing every phoneme on the right beat.