More than 485 million people in the world are native Spanish speakers and around 74 million people speak Spanish as a second language. By using Spanish text-to-speech, creators can enhance their reach to a wide variety of audiences.
What is Spanish text-to-speech
Spanish text-to-speech allows Spanish speakers, content creators, and TTS users to convert their written text into speech.
For example, by using a Spanish text-to-speech generator, you can convert any written script such as an audiobook, a website, or a document into Spanish speech or an audio file.
What is voice over en español
A voiceover script is a written document that is used as a foreground voice for dubbing a video. Typically, creators use an AI generator to create voice over scripts for their online video-related content. Voice over en español works in a similar fashion and can be achieved through an AI voice generator.
Gamers who stream on Twitch or Roblox can use voice over en español to interact with their Spanish followers.
YouTubers who create content around art, music, and theatre, can also add voice overs to their videos to engage a wide range of audiences.
Luckily, Spanish is the second most spoken language in the world. In the United States alone, 41.7 million people speak Spanish as a first language – that's 12.5% of the population. This is great for content creators who want to target a larger pool of audiences from around the world and within the US.
Spanish accent generator
Typecast is a speech generator software that offers a library of 300+ unique voices. Typecast's Spanish accent generator allows creators to choose and cast Spanish characters for their videos, podcasts, and games.
Typecast offers two Spanish characters – Carmen and Antonio.
Carmen is a female voice, ideal for creating documentaries and reviews. For example, if you want to market your new product or service and are looking for a Spanish female voiceover, Carmen can take care of the job pretty well.
Antonio can be a great choice for audiobooks and recitations. With his calming and melodic voice, he engages the readers and takes them into the land of beautiful stories. You can use Antonio's voice for children's storybooks, online lectures, and YouTube narrative-style videos.
To cast Carmen or Antonio for your next video or podcast, follow these steps:
Visit the Typecast website.
If you already have an account, click Sign in to access your account. If you don't have one, click Sign Up.
Sign up using a Google email account or Facebook.
In the dashboard, click View all Characters located on the right side of the screen.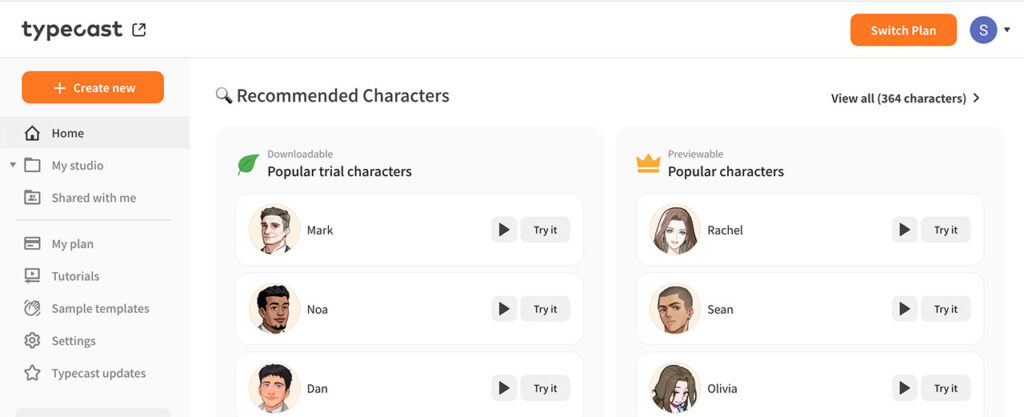 From the menu on the left, under Language, check the box for Spanish.
Choose Carmen or Antonio and hit Create a Project.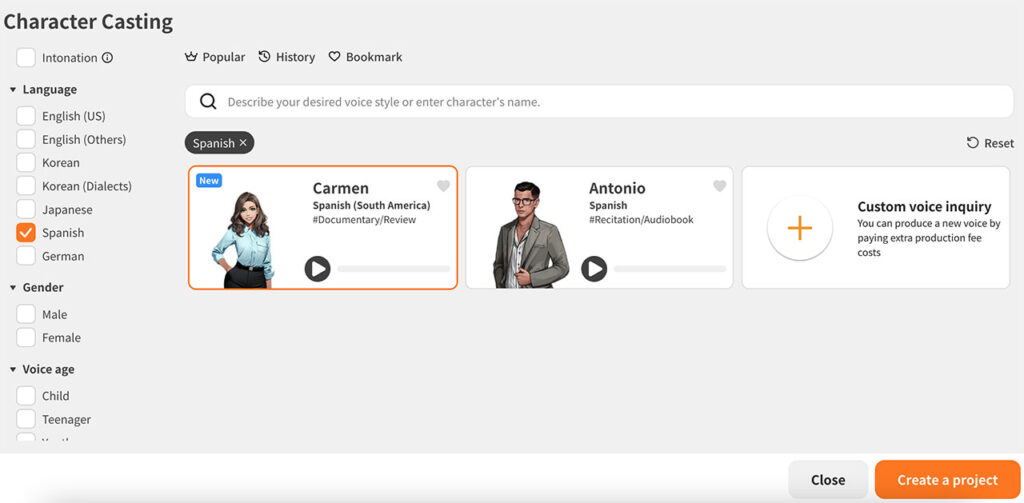 In the editor window, add a paragraph to include the content you want your Spanish character to speak. From the menu on the right, under Emotion, select presets such as normal, shout, cheerful and sad.
Choose the speech pace: slow, normal, or fast depending on your content.
Add pauses in speech as needed. You can add pauses between 0 seconds to 10 seconds.
Intonation is the rise and fall of your character's speech. Adjust intonation to 0, 1, 2, -1, -2, or auto.
Tempo is the speed of your character's voice. Adjust between 0.5x to 2x.
The pitch can be adjusted to lower, normal, and higher scales.
Play your audio clip to check if everything looks good.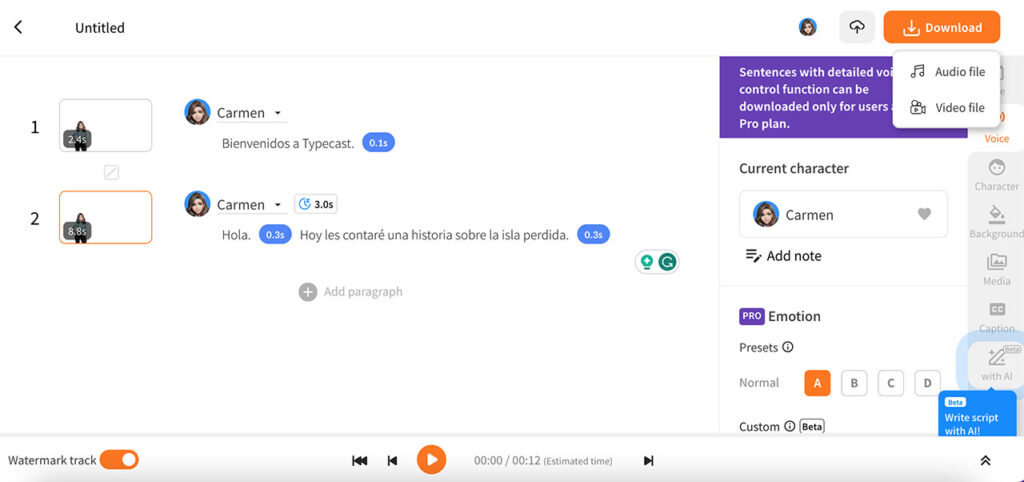 Once ready, click the Download button located at the top right. From the drop-down, choose Audio file or Video file.
Fill in the details such as your File name, and choose a file type such as Wav or MP3.
Click Download. Your audio or video file will be downloaded to your computer.