Learning how to edit videos for YouTube can be fun and challenging, but it should be one of the first programs new content creators use to edit their videos. Trying to use more complex programs like Adobe Premiere right off the bat can be overwhelming, and it is better to start simple and then move up.
It can also be frustrating if you don't have the right tools or knowledge to do it properly. In this blog post, we will discuss how to edit your videos for YouTube using an excellent program called YouTube Studio. We will also provide tips on making your videos look their best! Let's get started!
Why Should You Edit YouTube Video Content
When creating content for YouTube, video editing is a critical step. For many content creators, this is the most challenging part, but improving the quality of your content can be easy. Creating value comes down to two key elements: edit and distribute. Creating value comes from making content your audience loves and will want to watch, re-watch, and share.
If you want to ensure that your videos are the best they can be, you need to edit them. Editing your videos will help ensure that they are the right length, have a consistent look and feel, and flow well. It will also help remove unwanted footage, fix audio issues, and add visual effects or graphics. Editing your videos can seem daunting, but it doesn't have to be the best way to edit them will vary depending on the content you're creating.
What is YT Studio?
YouTube studio is a simple yet powerful tool that allows content creators to edit their videos directly on the platform. It is an online video editor available for free to all YouTube creators. On this platform, creators can manage their presence, grow their channel, interact with their audience, and make money in one place. YouTube studio has all the features you need to edit your videos, including Trim, Blur, Audio, and more.
YouTube studio is an excellent tool for content creators who want to edit their videos directly on the platform. However, we should note that this tool is only available to YouTube creators that turn on 2-Step Verification on their Google Account that is used for their YouTube account. Doing so will give the creator access to YT Studio or the Content Manager. If you are not a YouTube creator, you will not be able to edit your videos on this platform.
Edit YouTube Videos: Trimming a Video
If you're creating a new video or editing an existing one, you can cut out your video's beginning, middle, or end. You don't have to re-upload a video to edit it. The video's URL, views, and comments will all be preserved. This function is only available for videos less than six hours long.

In the left-hand menu, click "Content."
Click on the video title or thumbnail to begin editing it.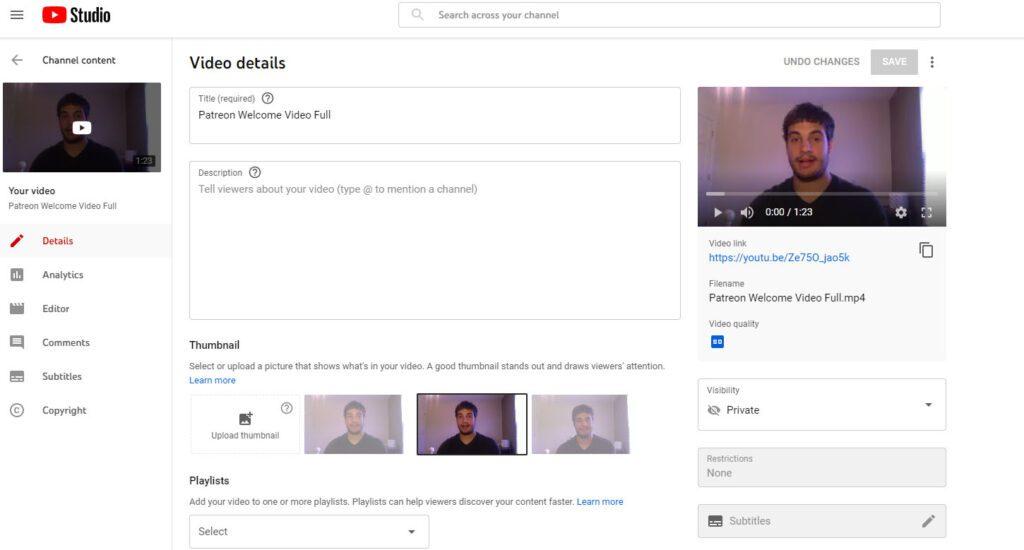 Using the left-hand menu again, click "Editor."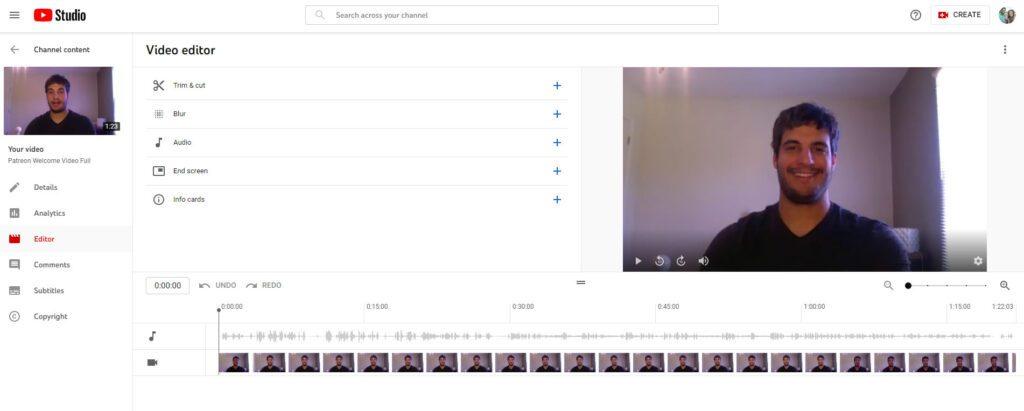 To start Trimming, select the "Trim & Cut" option, and a blue box will appear.

Drag the sides of the blue box on either end of the video to trim certain sections. Once you have the portion you want to keep in the blue box, click "Save."

You can also cut out the middle of your video by selecting the "Cut" option. This is useful if you want to remove a section of your video that's not relevant to the content or wish to make previews or short clips. Trimming a video isn't all a creator can do with YT Studio; there's more!
Editing YouTube Videos: How to Add Music to YouTube Video
Adding music to your videos is a great way to make them more engaging and set the tone. It can also help mask any background noise in your video so that your audio is clear.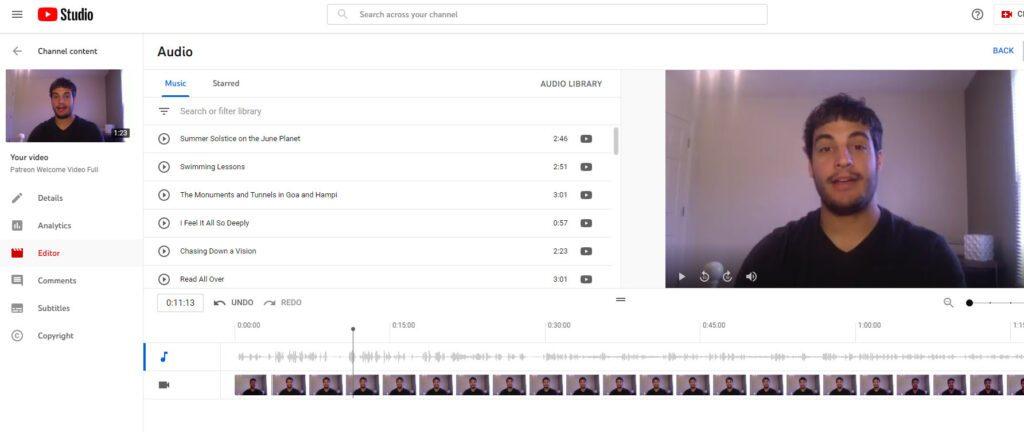 You can learn about this in our guide on how to add music to YouTube videos using the YouTube Audio Library or upload your music files.
However, we should note that users can no longer edit audio tracks using the mobile app; you need to use a computer to swap your audio tracks.
You can try using the YouTube Audio Library if you're having trouble finding audio tracks for your content or struggling with copyrighted content issues. The YouTube Audio Library is an excellent resource for creators that need background music for their videos.
The YT Studio utilizes a reliable audio editor that can edit and enhance your video's sound. So, if you're not happy with the audio in your video, you can use this tool to improve it.
Tips For New Content Creators
As a new creator, it's vital to get your content out there and create a brand or voice that is uniform and consistent. Managing your online presence can be time-consuming but editing your videos and creating high-quality content is worth it. The best way to start becoming a great content creator is to learn how to streamline your editing process early.
Developing a baseline editing style, you'll use and apply to every video is one of the most effective methods to streamline your editing process and keep viewers engaged.
A consistent editing style for your videos, including thumbnails, music, transitions, and more, will save you time searching for new elements every time you edit. Additionally, your audience will begin to recognize and appreciate your branded style.
Beginner-level YouTubers should also focus on creating a content strategy. An editorial calendar will help you plan and organize your video ideas so that you're always ahead of the game. This way, you can batch-shoot and edit your videos so that you're not scrambling to create a last-minute video.
Finally, don't be afraid to start small. Great content doesn't have to be complicated or time-consuming; it just has to be authentic and engaging. Keep these tips in mind as you begin your journey as a content creator, and you'll be well on your way to success. The more you edit, the better you'll become at creating high-quality content for your audience. So go out there and start creating valuable content.