Everyone has probably wondered 'Why is Instagram so popular?' Social media has been growing exponentially and for this reason, businesses of all sizes have been incorporating them in their marketing strategy. However, it is difficult to manage social posts manually each day. That is why content creators and marketers schedule Instagram posts to lessen their workload. 
Many people use Instagram for the opportunity of great exposure, utilizing key features such as hashtags, followers and by staying active. Frequency of posts is a vital factor in exposing your brand or profile at its maximum capacity. Even if you have over a million followers, if you don't post often, the chances are that your followers will eventually forget about your brand or your profile. 
If so, how often should you post on Instagram to stay active? Ideally, the more you post on Instagram in a week, the more likely you will be able to increase your reach. Consistency is key, Instagram's algorithm works to reward consistency and activity rather than overwhelming volume.
"For accounts with 1K-250K followers, posting 14 or 20 times per week delivers the highest reach rate per post, while posting once per week delivers the highest engagement rate per post."

LaterBlog
If you are aiming to increase your brand exposure, reach rate is the factor you would want to consider. However posting 14 to 20 times in a week means that you would have to post at least 2 contents in a day. Imagine having to select the best photo or video to post, then post edit, including the caption, embedding marketing elements, finding viral hashtags, etc. It can get burdensome very quickly!
So imagine how difficult it would be for content creators, marketers or small business owners to manage Instagram on their own each and every day when they have other business matters to address.
And this is when an Instagram planner comes in handy. Learn how to schedule Instagram posts so that you would not have to post them manually at a certain time and day. 
Why you should schedule Instagram posts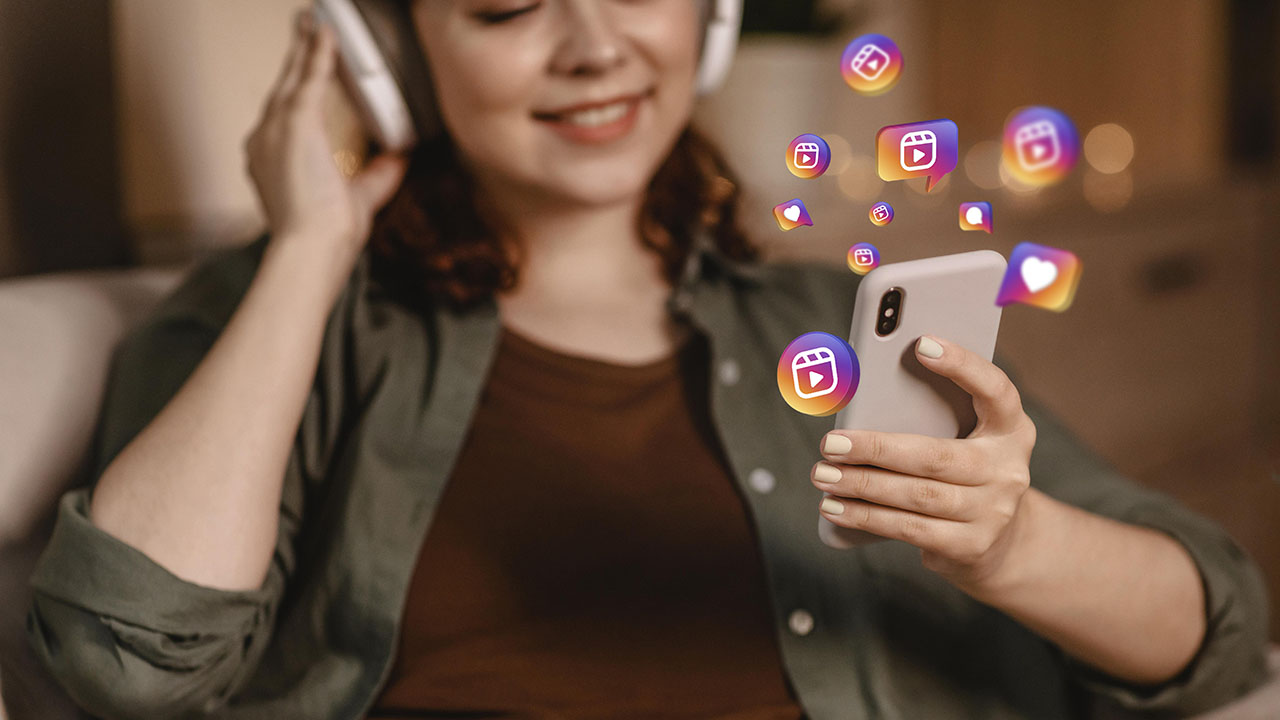 As aforementioned, scheduling Instagram posts in advance is the most time efficient way to keep your followers entertained with your posts. Not only this, but here are top six reasons why you should schedule your Instagram posts.
Save time
Build Consistency
Draft appealing captions
Cohesive visual
Organization
Post from PC
Other than the fact that you don't have to rush to post in real-time, you could also build consistency. Especially if you are a business account owner, you want to post content throughout the week to increase your reach. With Instagram planner, even if you are attending meetings at a different timezone, it is possible to automate a scheduled posting within your own timezone. 
Also if you plan in advance, you could draft a stronger caption. As mentioned above, in order to increase engagement rate, you want to build content that users could resonate with. Caption is a great content block for you to tell your brand's story and also an opportunity to work your marketing tactics via Hashtags or SEO keywords.
Another benefit of Instagram planner is the fact that you could build a cohesive visual story. A lot of brands post photos in a series so that when you visit their profile, three individual posts in a row would seem to appear as one big whole photo. For teachers' channels, you could do a series on one specific content so those who are interested in the topic would follow to view more.
If you would like to set a concept to your profile, or if you would like to mix the type of posts you would like to share on Instagram, schedule Instagram posts in advance for easier content management. Lastly, Instagram planner also allows you to post from the desktop. Schedule Instagram posts on a laptop allows you to review your posts on a bigger screen and edit faster!
How to Schedule Instagram Posts
This is fairly simple. First you need to have an Instagram Business or Creator Profile. Then from Creator Studio for Instagram you could manage your content calendar.
Log in to Creator Studio.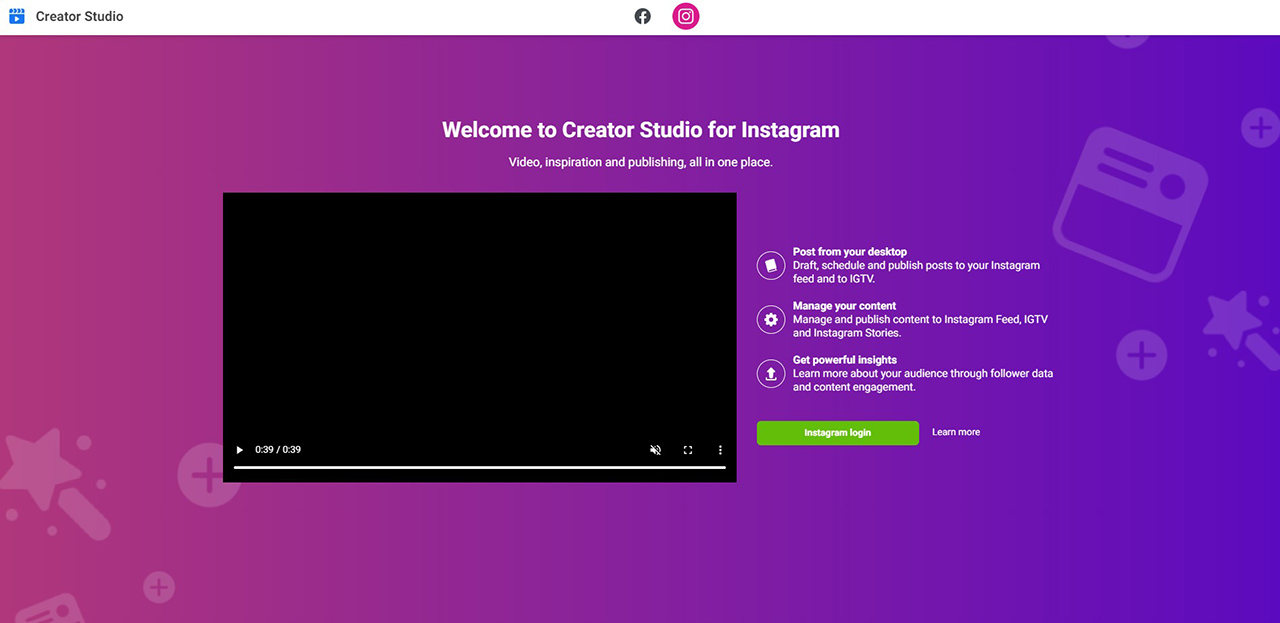 Click Create Post then Instagram Feed.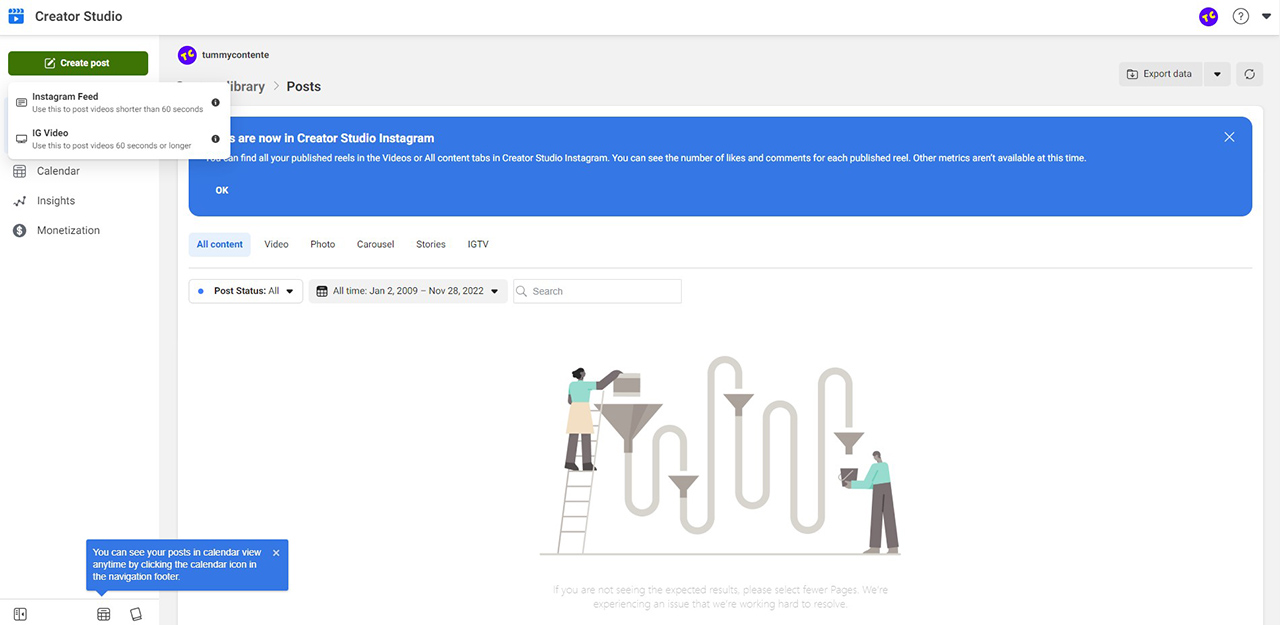 Write your caption and include relevant hashtags, mention, location tag and etc.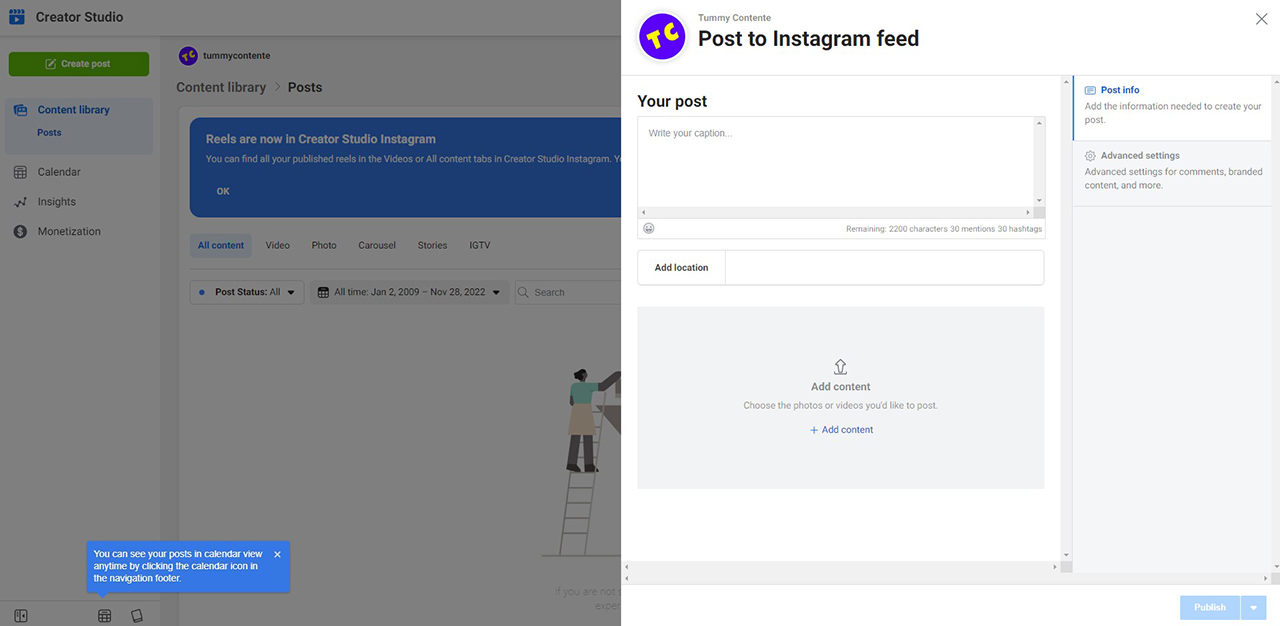 Click Add Content and pick the images or videos that you would like to share on your profile.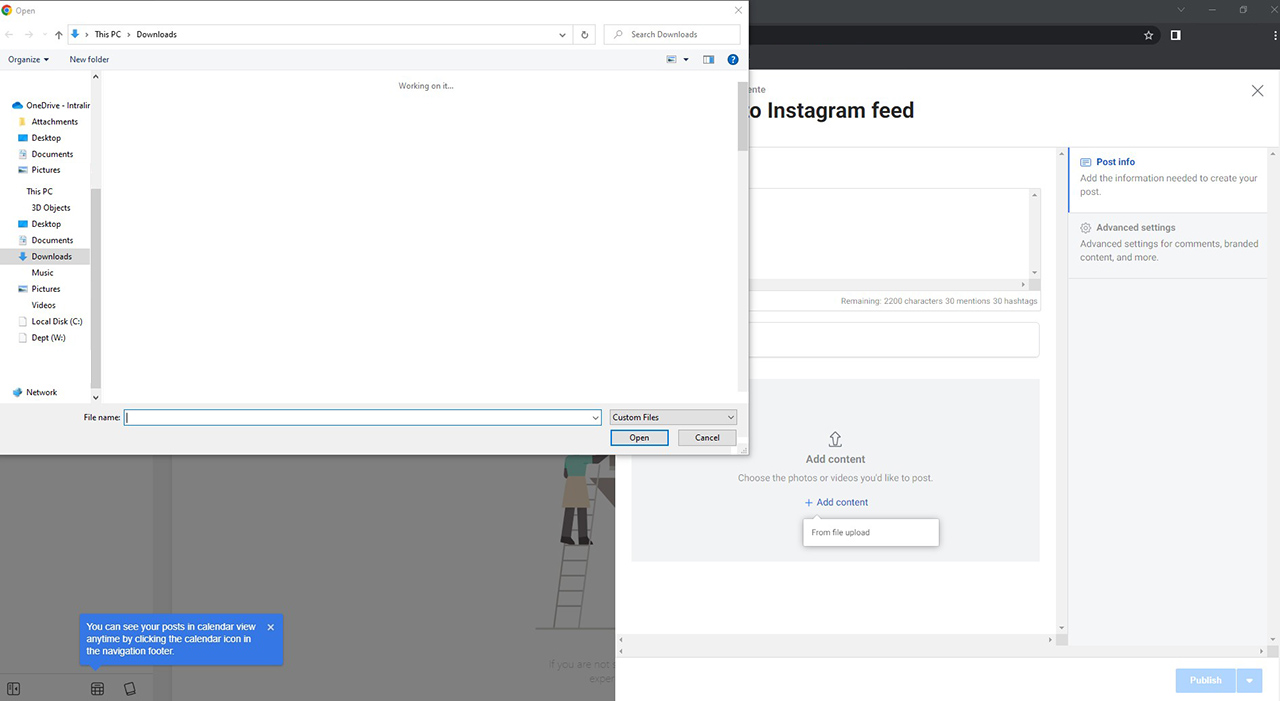 Tag other users, if necessary.
Click Publish to share your post immediately, or select Schedule if you would like to share it at a specific time and date.
Prior to scheduling an Instagram post, you also need to research when to post on Instagram. According to Brayden Cohen, Hootsuite's Social Marketing and Employee Advocacy Strategist, the best time to post on Instagram is between 8AM to 12PM or 4PM to 5PM on weekdays.
This is to guarantee that you schedule Instagram posts when your followers are online. If you are posting at 2AM or any other time when there are not many users active on the platform, your post will not have a high reach.
Also, ensure that you do your research on when to post on Instagram per day. The ideal time might differ between weekends and weekdays, or Monday and Friday might vary as well.
Review your scheduled Instagram post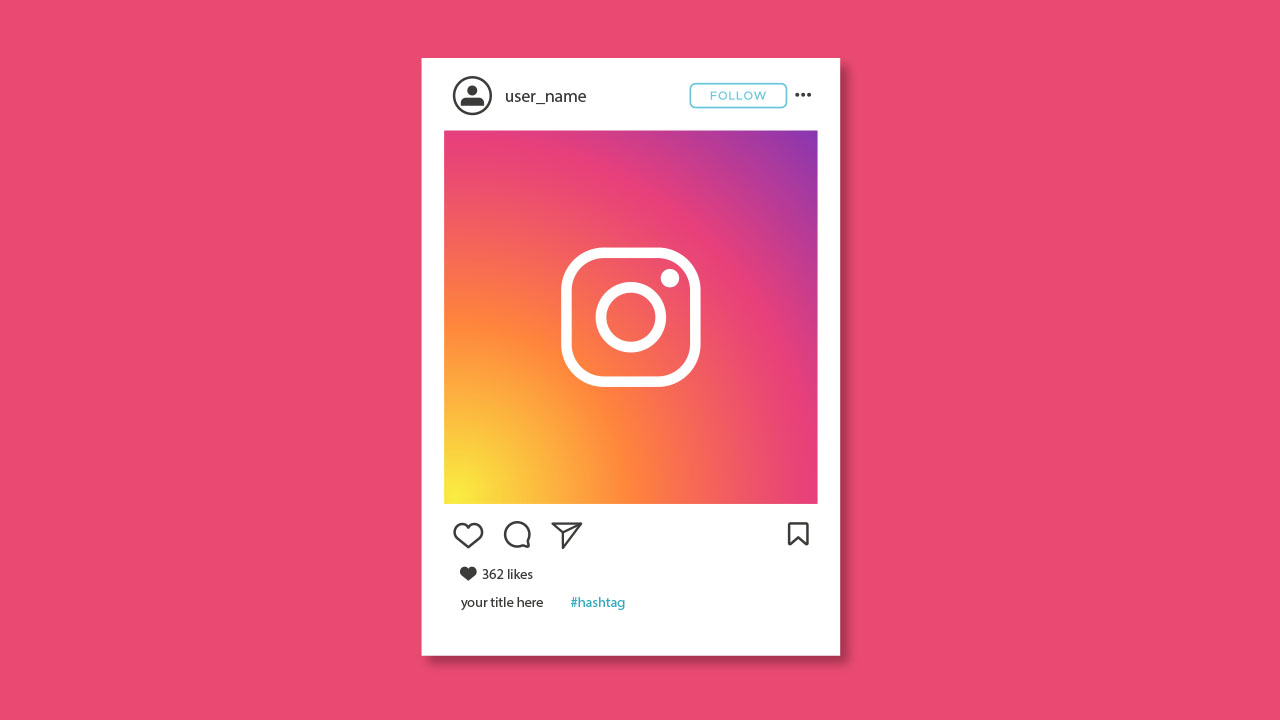 Review is key for any type of project. Whether you are a content creator, marketer, small business owner, see what works the best with your followers. Depending on the type of businesses or the products that you advertise, the ideal content and when to post on Instagram may differ from others.
Experiment with the theme, content, time and even design of your Instagram content and work with the one that gets you the highest audience reach and engagement rate. Try various ideas, perhaps having a web presenter to introduce your brand and share it on Instagram, or doing a collaboration with other brands to bring forth a synergic effect!
If you are not too sure of creating a content calendar to keep track of your scheduled Instagram posts, or if you do not know where to begin, try using a third party tool. For example, applications such as Sprout Social or Oktopost allows you to schedule Instagram posts and other social media posts via one app.