We have some exciting news regarding YouTube monetization that should interest all content creators.
If you have your finger on the pulse of the online video world, then you know YouTube Shorts, the streaming platform's new vertical videos, is quickly becoming a significant player in the ever-expanding opportunities for content creators.
If you tuned into our last blog that discussed how to monetize YT shorts after the discontinued YouTube Shorts Fund, thank you.
Now, YouTube is lowering the requirements for creators to access monetization tools under the YouTube Partner Program (YPP). With YouTube now lowering its YPP requirements, users can take advantage of the opportunity to monetize their short-form content even faster than before. With your monetizing goals closer than ever, it's time to introduce the new 2023 YouTube monetization guidelines for YT Shorts.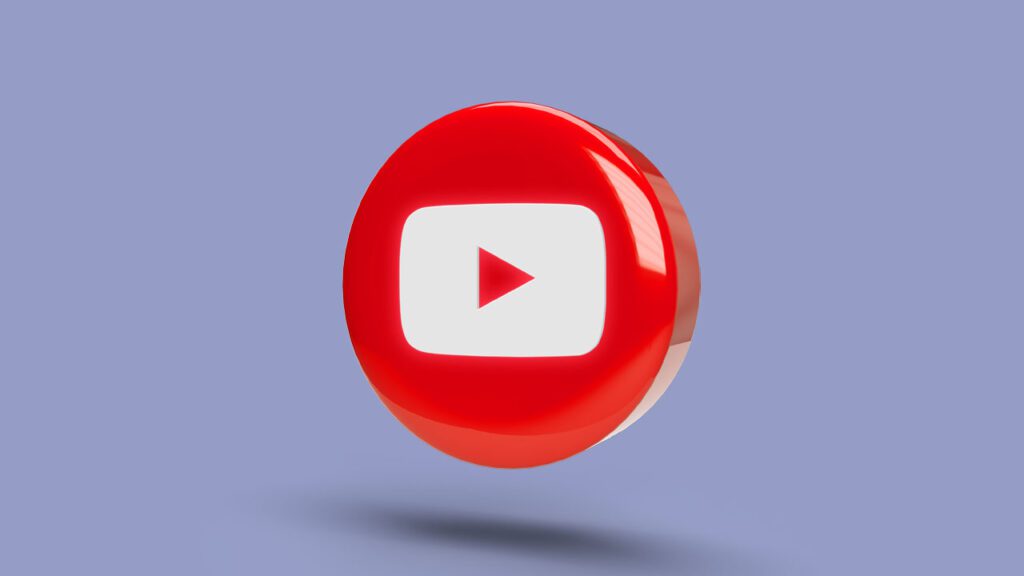 Why should you worry about YouTube monetization?
As a content creator, YouTube monetization is essential to your success. It's about making money and ensuring long-term success and steady growth in your career.
With YouTube's new monetization policy, it has become easier for creators to access the tools they need to make money from their videos.
Although the YouTube monetization threshold is a bit easier to meet, the video platform is serious about creating an ecosystem that protects copyright and discourages fraud.
Not only that, but YouTube wants to foster a community that leads creators to create high-quality content. After all, as a content creator, your content is the true star of the show.
YouTube's algorithm rewards creators with high-quality, versatile content that engages and retains viewers. This means making content that is interesting, informative, and entertaining. Creators should focus on building an engaged audience, providing value to their viewers through their creativity and skill. By doing this, they can increase engagement and build a loyal fan base.
The algorithm of YouTube Shorts also depends on how much monetization you have achieved with your channel. The more you monetize your videos, the higher your chance of getting featured in the Shorts tab. This gives you greater visibility and allows you to reach a wider audience.
Creating high-quality content that resonates with viewers is critical to success on YouTube. A great way to do this is by telling stories through your videos or creating tutorials that teach people something new.
You can also use different media types, such as images, audio clips, or animations, and add music to enhance your videos and make them stand out.
With YT Shorts reaching over 50 billion daily views, the Google-owned company realized the potential to monetize YT Shorts and decided to lower the requirements for creators who want to be a part of YPP. By taking advantage of YouTube's monetization opportunities, content creators can ensure long-term success and steady career growth while providing value to their viewers through creativity and skill.
How to monetize YouTube shorts – The "old" way
If you're just tuning in to YouTube monetization, the old YPP requirements had stricter requirements and less attainable goals for content creators. YouTube has recently released a new monetization strategy discussing how to monetize YouTube Shorts, the short-form video feature introduced in 2020. This "old" strategy is exciting for content creators who want to make money from their YouTube Shorts. We say it's the "old" policy because YouTube has changed its guidelines slightly, which we will discuss in the next section.
Previously, creators had to meet specific criteria to be eligible to monetize their YouTube Shorts. They needed at least 1,000 subscribers and either 4,000 watch hours in the past year or 10 million Shorts views in the last 90 days. While this system allowed some content creators to make money from their short videos, it also posed several problems.
It could be difficult for smaller channels with fewer subscribers and views to be eligible for monetization. Additionally, it could take longer for channels to reach these thresholds and start making money from their videos. However, there are still some drawbacks to this new system compared to traditional video monetization on YouTube.
For example, the revenue-sharing model means that creators will receive 45% of the ad revenue generated by their videos. Additionally, there may be fewer opportunities available for sponsored content since sponsorships are not yet widely available on YouTube Shorts. Content creators looking to optimize their YouTube Shorts presence should focus on creating high-quality content that engages viewers and encourages them to take action (such as subscribing or watching other videos).
Additionally, they should consider the timing when releasing their videos – posting during peak times can help maximize viewership – and using call-to-actions like annotations or cards within the video. Finally, they should look into other ways of generating revenue, such as affiliate marketing or donations through platforms like Patreon or PayPal, if sponsorships aren't an option yet.
Monetizing your YouTube videos: The new way
YouTube has made qualifying for the Partner Program easier to reward creators for their hard work. So, while they still want high-quality content, they want it accessible to more aspiring YouTubers. As more changes are likely coming, YouTube will provide further information about its new programs at the VidCon conference on June 21-24th. Let's expand on the updated requirements for YPP.
#1. The number of channel subscribers
The good news for content creators is that YouTube has made qualifying for the Partner Program easier. While the new requirements still require 500 subscribers, they've adjusted the other requirements to match.
#2. Video watch time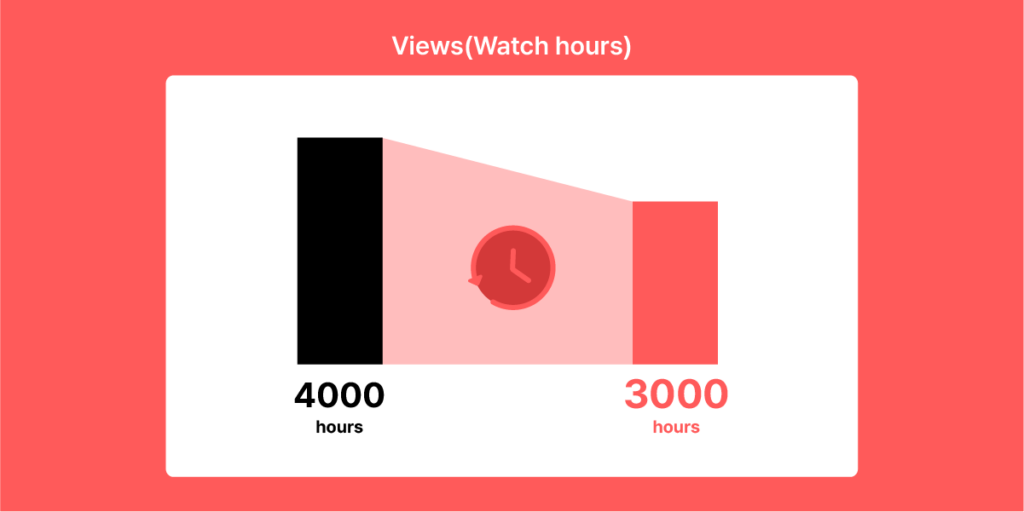 The watch time requirement has been lowered from 4,000 in the previous year to 3,000. This means that you don't have to wait for potentially a year before you can qualify for monetization. Instead, you'll be able to qualify sooner and start making money off of your videos.
#3. The number of views watching YouTube shorts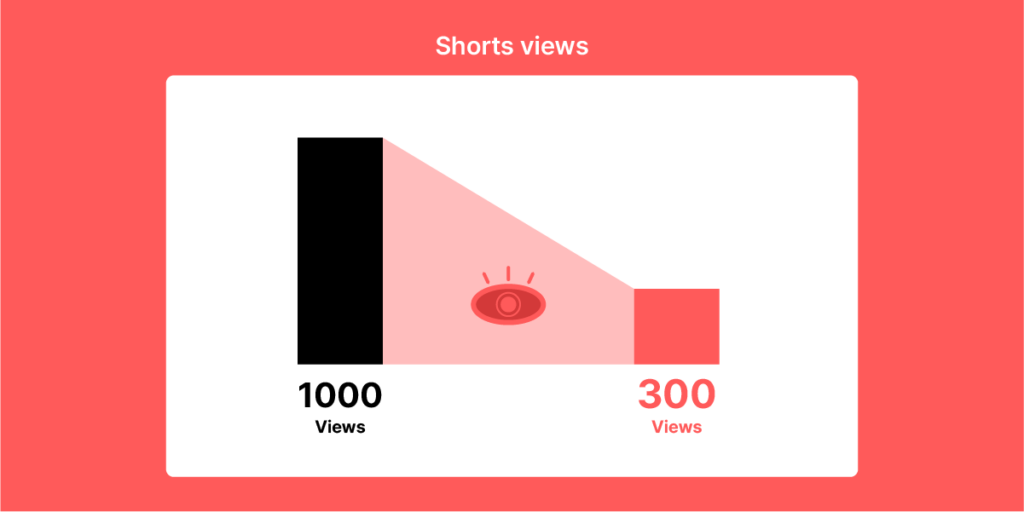 Additionally, they have allowed creators to qualify for the program if they reach 3 million Shorts views in the last 90 days instead of 10 million.
This means content creators focusing on creating Shorts videos can qualify for monetization sooner and start making money from their YouTube channel.
How can creators target the new Youtube monetization strategies?
These new changes have created an excellent opportunity for content creators to target the new YouTube monetization strategies because they believe monetization is more attainable.
The new eligibility criteria for YouTube are being implemented in the United States, the United Kingdom, Canada, Taiwan, and South Korea. YouTube will eventually introduce the requirements in other countries where the Partner Program is offered.
The video-streaming company also has its Shopping Affiliate pilot program that creators can use to make money. YouTube will extend eligibility for the program to creators who are already part of the Partner Program and have over 20,000 subscribers. These creators can tag products in their videos and Shorts and earn a commission.
To create valuable and engaging content, YouTube encourages creators to focus on creating educational and instructional material. Here are some more ways creators can achieve greatness.
Create content with generative AI
Content creators have much to gain from incorporating generative AI technology into their workflow. AI can help optimize keywords and improve "searchability," leading to better monetization on YouTube for both Shorts and long-form content. Moreover, AI can provide personalized recommendations to viewers, improving audience retention and engagement levels.
Additionally, AI can generate fresh and exciting ideas for future content, helping content creators stay ahead of the curve.
All of these benefits lead to a more efficient content creation process that improves returns on investment for content creators.
Editing YouTube videos to create more engaging content
Editing videos is an essential part of creating content for YouTube. It helps creators enhance their videos and make them more engaging, leading to increased viewership and engagement.
With the help of video editing, creators can trim their videos to remove unwanted parts, add transitions between scenes, incorporate sound design, add text and titles, and adjust colors to make their content look more professional.
Using YouTube's built-in editor, creators can make the editing process work for them.
By investing time into learning how to edit videos for YouTube, creators can create engaging content that will help them grow their audience and reach new heights in their careers.
To make monetization easier for everyone, YouTube allows creators to take a previous video clip they watched and "stitch" it into their video timeline – a feature reminiscent of TikTok.
YouTube also provides high-quality tools creators can use to edit and optimize content.
Use YouTube Studio and the YouTube app
With the new updates to their platform, Google is trying to appeal to mobile content creators. Now, creators can start recording on their mobile devices, edit YouTube videos, and upload them without a computer.
As a YouTube content creator, it's essential to know how to use the built-in editor and incorporate YouTube Music into your videos.
The company introduced a new metric in March that follows how far an artist can reach across various formats, Shorts included. The YouTube Video Editor is an easy-to-use, accessible, and cost-effective way to edit videos. With the built-in video editor, you can trim clips, add transitions, adjust audio levels, and more.
Some third-party software may work well when you want to edit YouTube videos, but anyone can learn how to edit with just a smartphone. Rather than making a simple video, YouTube offers useful creative features all from the convenient mobile YouTube video editor. When users begin editing, they can incorporate a YouTube Music track into their video, adding more dimension and increasing engagement. Plus, with the YouTube iPhone app, users can access these features directly and edit videos on the go.
Create great content for your YouTube channel with Typecast
Content creators can also use free voice actors to create more engaging content. While many websites offer a wide range of voices, Typecast is the leading website for AI voice actors. With Typecast, you can customize and upload a voice to match your video's tone and create the perfect narration for your YouTube videos.
Typecast also provides creators access to over 350 AI voice actors who can deliver content in multiple styles and languages. Plus, Typecast's AI voice actors are always accurate and consistent, so you don't have to worry about re-recording or making changes in post-production.
YouTube continues to make changes and adjustments to provide content creators more access to monetization tools. This is a once-in-a-lifetime opportunity for aspiring content creators to start creating engaging content and learning how to monetize YouTube videos.
By taking advantage of new strategies and tools, like AI voice actors, you can create high-quality content to stand out.
With YouTube monetization becoming more accessible, now is the time to start creating content for your channel. So take advantage of these changes and make great videos to help you take your career to the next level.
Stay tuned to our blog for more YouTube monetization content.