Using a scary voice via text to speech can be a great way to make your content and audio more interesting.
Utilizing online AI text to speech generators like Typecast will allow you to create a wide variety of voices, many of which are perfect for creating a spooky atmosphere.
Here's how you can get started:
Start by visiting our voice editor here! You don't need an account to try our service first.
You can clear the template by highlighting everything and hitting backspace.
Choose your voice actor by selecting the image of the current actor, then click Add actor.
Select your actor based on their settings.
Type out your script and adjust the tone and pitch to get a more ominous voice.
When you're first getting started, it's important to experiment with different voices and find one that fits the character you're trying to create.
You can always change the settings on the character voice generator to get a different sound, so don't be afraid to play around until you find something you like.
As you become more comfortable using Typecast's voice generator online, you'll be able to create even more convincing voices that will add an extra layer of excitement to your text-to-speech audio.
So have fun, and get creative!
1. Start by visiting our voice editor
Trying out our service first is simple and takes just a few moments. Simply go to the top of the home page and select any of the templates such as Audio Book or Education.
You can also just jump straight into our AI voice editor here!
Alternatively, you can sign up and then use our service as well.
2. Clear the template
Once you're in the editor via one of our templates, you'll need to clear the text if you want to write your own script.
Or just use the one that is provided if you only care about how the voices sound.
It's up to you!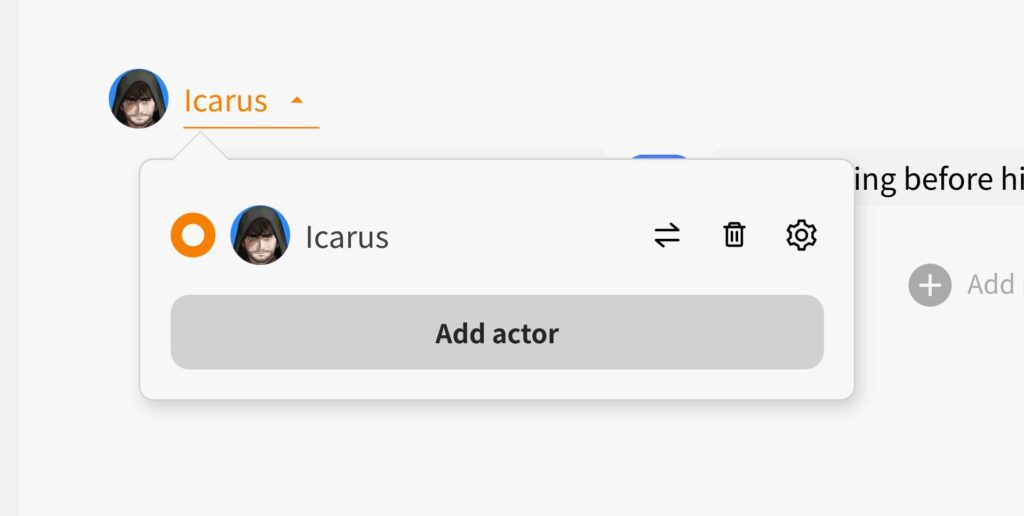 3. Choose your voice actor by selecting "add actor"
Choosing a text to speech actor with a scary voice on Typecast is a breeze.
You can search for the perfect voice by scrolling through the list of options or using the filter tool for:
Gender
Emotional expression
Tone expression
Age
Content
Mood
Whether you're looking to make avatar videos or put a TTS voice behind a video you shot yourself, there are plenty of scary voices to choose from.
Selecting a voiceover narration meant for gaming and animation could give you some great options for a spooky character, and depending on your intentions, both male and female characters could be used as spooky options.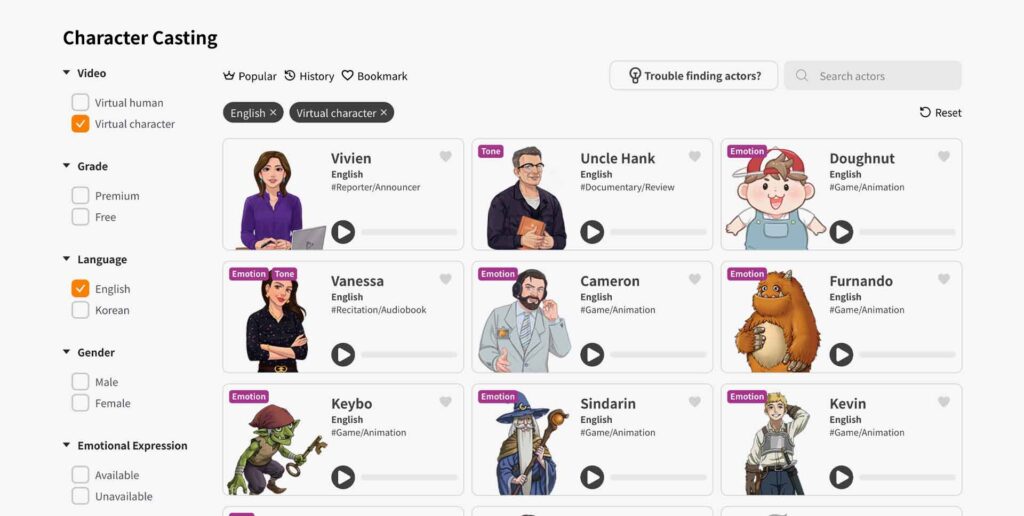 4. Select your actor based on their settings
When you've found the voice you want to use, click Add actor to bring them into your project.
You can adjust the tone and pitch of their voice to create the perfect sound for your purposes by selecting the Settings option next to their name.
There are a few ideal scary character text to speech voices like:
P-0150N
Neoguard
Edward
Vincent
Ryan
Each of these voices can be enhanced by using the tone, pitch, and inflection settings to make them sound even more spooky.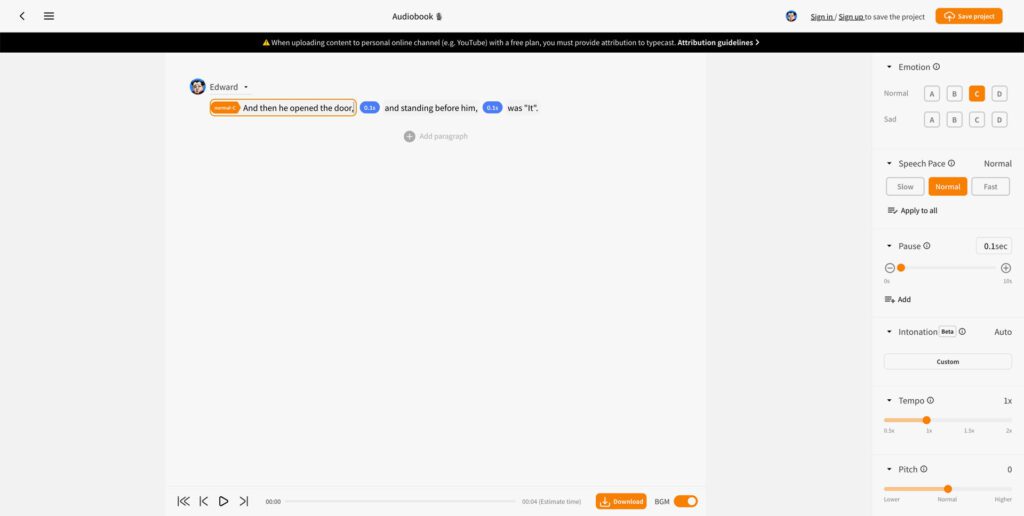 5. Type out your script and adjust the tone and pitch a more ominous voice
Now it's time to input your type to voice script.
The input box allows you to type out what you want your character to say, and you can use the tone and pitch options to make their voice sound more spooky.
Be sure to experiment with these settings until you get the perfect sound.
How to customize your voice
From the menu on the right, under Emotion, select presets such as normal, shout, cheerful and sad. If you have beta subscription, you can be quite precise here with your emotion. For example, for a spooky voice, you can type cold, angry, or fearful.
Choose the speech pace: slow, normal, or fast depending on how your character speaks. For example, a ghost would speak at a slow speed, while a witch may speak in a fast and shrill voice.
Add pauses in speech as needed. You can add pauses between 0 seconds to 10 seconds. Pauses are particularly helpful when creating a scary voice, as it adds a sense of suspense which is an important aspect of thriller content.
Intonation is the rise and fall of your character's speech. Adjust intonation to 0, 1, 2, -1, -2, or auto. When dealing with spooky characters, adding intonation is key to creating a character with different dimensions. You don't want your scary character to be flat – that would be a bummer!
Tempo is the speed of your character's voice. Adjust between 0.5x to 2x.
The pitch can be adjusted to lower, normal, and higher scales. When your story reaches a climax, it would be fun to increase the pitch to add suspense and also to scare the pants off of your listeners and watchers.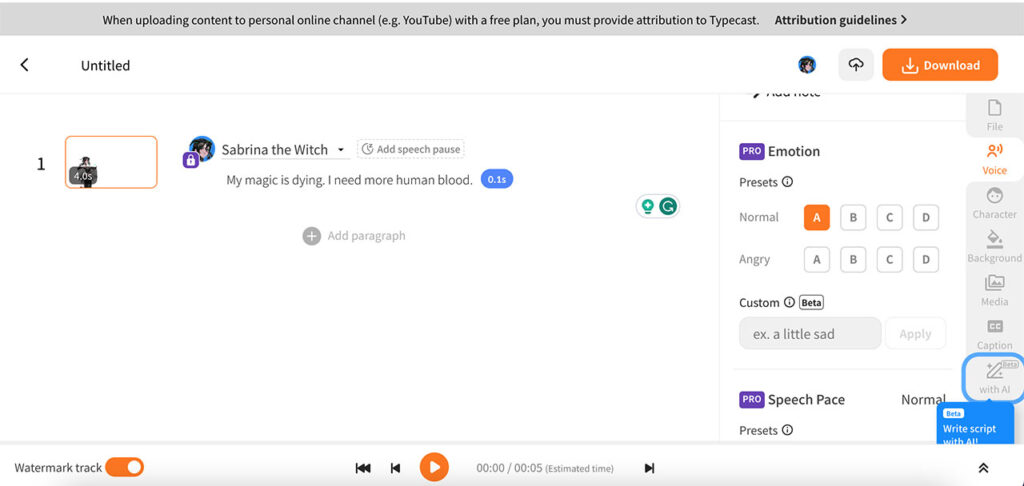 6. Download the audio or video file
Once you have added your script in paragraphs, and adjusted the various speech settings, you can download your audio or video clip on your computer. Typecast supports MP3 and WAV formats for output.
To download your text-to-speech in MP3 or WAV, follow the steps below:
Click the Download button from the bottom right corner.
Select Audio file from the drop-down menu.
Add a File name and choose MP3 or WAV as your File Type.
Click Download. Your audio file will be downloaded to your computer.
A few things to remember:
If you are on the free plan, not all characters will be available for download.
If you are using the free plan to create content, all attributions must be made to Typecast.
Using a scary voice text to speech generator
Whether you are planning spooky Halloween sounds, or producing a horror short film for your YouTube channel, using a scary voice text-to-speech generator can help speed up that process for you and also offer a creativity angle that's essential in today's digital world.
Using such software can also offer you various scary characters you can choose from. Having options is always the best!
Recording a scary voice, or creating a scary human/animated character on your own can be time-consuming and costly, hence, with a scary voice text-to-speech generator, you can automate this process and save tons of time.
With pre-created characters, you can readily produce your spooky audio or video content within minutes.
Typecast – an AI text-to-speech generator has plenty to offer to creators from all walks of life. Whether you are a gamer, YouTuber, Instagram influencer, or simply an AI enthusiast, you can utilize many cool tools in Typecast text-to-speech generator to create scary voice for your diverse audience.
Typecast scary voice characters
Selecting a character for gaming and animation could give you some great options for a spooky voice, and depending on your content, both male and female characters could be used as scary options.
Here are a few scary voices for text-to-speech on Typecast:
P-0150N
Skeptical, and somewhat realistic, P-0150N is a robot that scares other robots. He is essentially on the human's side. Strongly not in favor of world domination, he, rather believes in generating resources for renewable energy.
P-0150N is ready to fight other villainous robots who are set to destroy the world. His voice is ideal for a Halloween character who demonstrates power and prestige.
You can also use this robot voice in videos targeted to children, such as spooky stories, powerful heroes fighting villain stories, and more.
P-0150N is also a great screaming text-to-speech character that can be introduced in content that features annihilation, destruction, or war.
Annabelle the ghost
If you are a fan of The Conjuring, you would know a lot about Annabelle. Annabelle is a spooky doll that's possessed by the demon Malthus. Typecast's Annabelle is a ghost from the past. She belonged to a little girl who lived in a village called Alamance in North Carolina.
She also has a stuffed animal – Mrs. Squirrels who she keeps with her wherever she goes. Annabelle faced a tragic ending, where a witch conjured magic on her and threw her into an old well. Now, her soul is battered, and she has become evil. Anyone who crosses her path meets a terrible fate.
Annabelle's voice – harsh with varying intonations – can be used in short horror films that feature dolls or ghosts. Doll characters are versatile as they cater to both adult and children audiences – so feel free to unleash your creativity!
Sabrina the witch
Talk about the devil! Sabrina was the witch who cursed Annabelle. She wanted to destroy the whole village of Alamance and avenge her lover. Peter. Her darling Peter was lynched by the villagers and killed for stealing bread. Sabrina knew that Peter didn't steal anything and was unjustly murdered.
Sabrina had promised Peter to keep her powers suppressed and not use them for evil but she couldn't let go of the evil that was done to Peter. Hence, she stole a doll from a kid, cursed it, stuck pins in it, and whole village faced the wrath of her curse.
Slowly the crops began to rot and smell bad. The whole village was in ruins within a matter of weeks. Sabrina had accomplished her mission.
Sabrina's voice is like a "warning" – an impending doom. Utilizing her voice in your audio and video content will give it a fine dimension that's required in scary content.
Sabrina is a typical example of text-to-speech angry voice that expresses the inner grief and scars it carries. The witch will destroy everything that's in her path. Beware!
Cole
He may be a detective that solves murder cases, but Cole is no ordinary detective. He is actually the serial killer for the cases he is trying to solve. Pinning it on other innocent people, Cole has so far been successful in getting away with all the murders.
He doesn't need an alibi because no one suspects him – after all, why would anyone suspect the leading detective for the serial murder case?
Cole's indifferent and mysterious voice makes it an ideal fit for thriller and mystery content. Adjust the pitch and intonations to give his voice a more ominous edge.
Apart from the characters listed here, many other male, female, and animated characters text-to-speech scary voice can be used for creating spooky content. Do give a try to Keybo, Athena, Glenda, and Amber as well!
Where to use scary voice text to speech?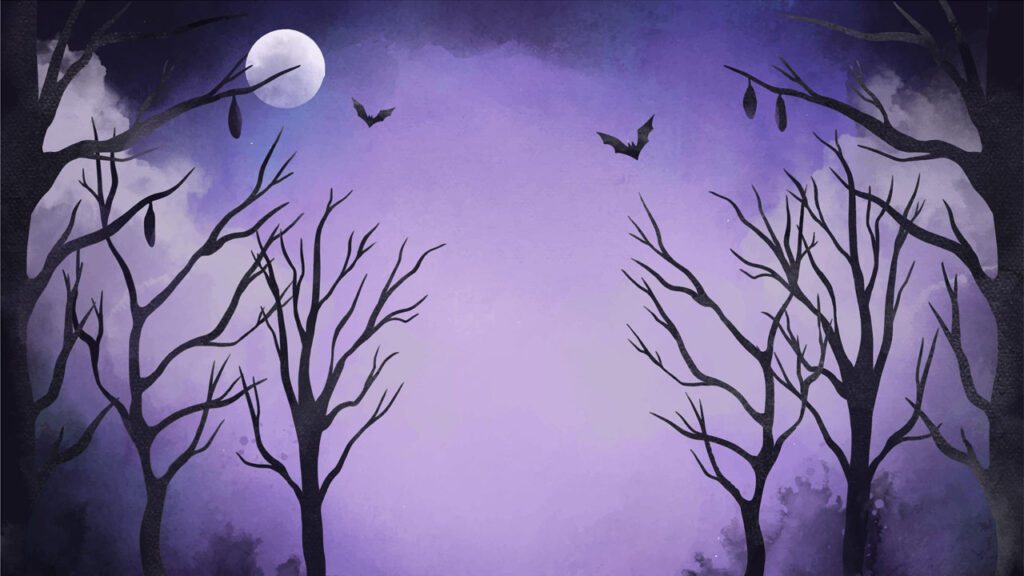 Creepy voices can be used in a variety of online content including YouTube videos, audiobooks, podcasts, and more.
Here are some content ideas for creating text-to-speech:
Haunted house videos
YouTubers who are into spooky content, love visiting haunted houses and capturing footage of old and ancient buildings.
Usually projected as a night vision video, people walk through haunted places looking for ghosts and spirits.
FaZe Clan and Sam and Colby are some of the YouTubers famous for creating haunted house tour videos. They explore haunted places and also sometimes spend the night in haunted hotels, mansions, and deserted places.
Using Typecast's text-to-speech characters, you can add a spooky voice-over to such videos. It will add a layer of eeriness to it that the viewers will enjoy,
Spooky podcasts
Whether you have had ghost encounters, or you simply enjoy making up scary stories, podcasts can be a great way to try out text-to-speech. Typecast characters Cole and Keybo can be a great addition to your scary stories podcast.
Some of the podcasts that feature horror content include Welcome to Night Vale, Lore, and The NoSleep Podcast.
Set in the fictional town of Night Vale, the Welcome to Night Vale podcast features eerie encounters and cosmic horrors in the form of a community radio show.
Lore touches on the subjects of folklore and famous legends around ghosts and witches. The NoSleep Podcast narrates stories from famous authors and also touches on the subject of supernatural encounters.
Short films
Fans of horror love enjoying short horror films that end with a twist. Creators can use various text-to-speech characters in short films. With Typecast, multiple characters can be chosen which makes it easy to introduce characters and create an engaging storyline.
The Smiling Man (2013) is a famous short horror film on YouTube that has gained 1 Million views. Directed by A.J. Briones, this film features a little girl who walks alone in the dark and encounters a tall, grinning stranger.
Lights Out (2013) is about a woman who encounters a mysterious entity or spirit that only appears when the lights are turned off. Directed by David F. Sandberg, the film has gained over 17 Million views.
What is AI text to speak?
The concept of text-to-speak is exactly the same as text-to-speech. Both terms can be used interchangeably.
Text-to-speak technology allows creators to convert any written text or script into spoken content or speech.
Today, text-to-speak technology is used in virtual assistants such as Alexa and Siri. Podcast and audiobook creators also utilize text-to-speak technology in their written content.
The emergence of artificial intelligence, deep learning, and neural networks during the 2010s brought about a significant transformation in text-to-speech technology. Through the utilization of vast quantities of data and intricate neural networks, it became possible to produce speech that sounded remarkably humanlike.
What was once considered impossible has now evolved into an advanced means of speech and communication. Today, even popular social media platforms like Facebook, Twitter, and TikTok offer text-to-speech functionalities to their users.
Text-to-speak technology is seeing major improvements and is expected to become more advanced in the near future.
The advancements in artificial intelligence has brought about user-friendly tools that facilitate the conversion of written text into speech. These software or tools, known as text-to-speech generators (TTS) are available as downloadable applications for desktops or can be accessed through online platforms. While certain TTS options are available free of charge, others may have a subscription-based model.
Typecast offers both free trial and subscription models. If you want to test the AI generator and dabble with the available tools, using a trial version would be helpful. Once you have the understanding of the features and are comfortable using the the generator, you can move to the pro model.
The trial model offers limited capabilities that are unlocked with pro subscription.
Can you change your voice online?
Today, many voice changing applications are available that allow you to change your voice into a different voice e.g., celebrity, robot, girl, or boy, and more.
Many gamers love using voice changers when streaming online. Content creators who prank their friends and family members can use voice changers to obscure their voice into someone else's and create fun memories.
Remember to use such software ethically as the lines can be blurred when you are involved in it too much. If cloning your voice for a celebrity's ensure that you have copyrights to use the voice in your content. Always give credit where it is due.